Forza 750 Oil Change Pack
 
Official Honda dealer in France
We bring you the best advice and follow-up for your Forza 750
International express delivery
Express shipments all over the world with Chronopost
100% secure transaction
Payment is secure with the latest standards and our after-sales service will assist you within 24h
The Forza 750 Shop engine oil change pack allows you to carry out the maintenance of your scooter yourself at discount price with parts and consumables recommended by Honda, the manufacturer of your bike.
This pack includes 4 liters of Motul E-TEC 10W30 oil, designed and recommended by Honda for its 4-stroke engines, as well as an OEM Honda oil filter and drain seal.
All at the best price with express delivery to follow Honda recommendations without breaking the bank !
Using a Honda recommended oil such as Motul ETEC will have a positive long term effect on maintaining the performance and life of your Forza 750.
The frequency of maintenance also matters, it is important to carry out an annual oil change, especially at the beginning of the season for those who winter their scooter. This is because the condensation that develops when the engine is stopped for a long time charges the oil with water and thus reduces its lubricating capacity.
For optimal periodic maintenance, we suggest replacing the DCT automatic transmission oil / filter as well as the use of a Motul pre-drain cleaner.
You might also like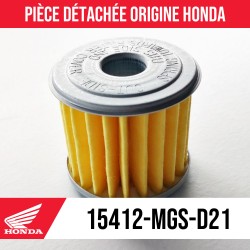 4 other products in the same category: